About Hailo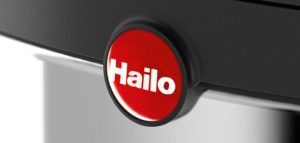 Hailo has been dedicated to making work easier and safer for trade and industry professionals and DIY enthusiasts ever since it was founded in 1947. As a leading manufacturer of ladder systems, steps and waste bins, we offer our customers a wide range of innovative products that set standards. Hailo continually provides new impetus in the market with its forward-looking product innovations. Today, Hailo products are sold in more than 60 countries across the world.
Innovations are a matter of principle for Hailo – and quality a matter of tradition
Our trademark – the red Hailo dot – stands for the ultimate in quality and safety, something that our customers can rely on. This is guaranteed by our many years of experience, innovative product developments and our DIN EN ISO 9001:2008 certified quality management system.
Innovative products – creative marketing
As a quality brand, we are a strong partner for the retail industry. We actively support our retailers with innovative advertising and sales promotions. Their success is our goal!
Our History
We've always been an ideas company – ideas that make home life safer, easier and more enjoyable. At Hailo, these form the hub around which Rudolf Loh set up the company in 1947, since when Hailo has continued to develop and today is a global company distributing top quality products in more than 60 countries.
1947
Company founded by mechanical engineer, Rudolf Loh
1953
Launch of the first built-in waste bin for fitted kitchens
1960
Launch of the first aluminium household ladder
1971
Joachim Loh takes over the company
1983
Launch of the first ironing board with built-in electric socket, flex holder and iron rest
1985
Launch of the first waste separation system for fitted kitchens
1998
Launch of the first waste organisation and separation system for corner sink units
2001
Hailo takes over Eisenwerk Sauerland steelworks in Drolshagen
2003
All sign gantries at road toll points in Germany and Austria are fitted with Hailo ladders and the first aluminium ladder scaffold system for the DIY sector is introduced
2007
The Hailo brand enters the "German Standards – Brands of the Century" encyclopaedia
2009
Joachim Loh hands down the leadership of the company to his son, Sebastian Loh (3rd generation)
2009
Hailo takes over the ladder and stepladder production division of Leifheit, while the Hailo Steam Iron Systems Division transfers to Leifheit
2013
The Wind Business Unit is spun off as a new company: Hailo Wind Systems GmbH & Co. KG (www.hailo-windsystems.com)
2017
Hailo celebrated its 70th birthday