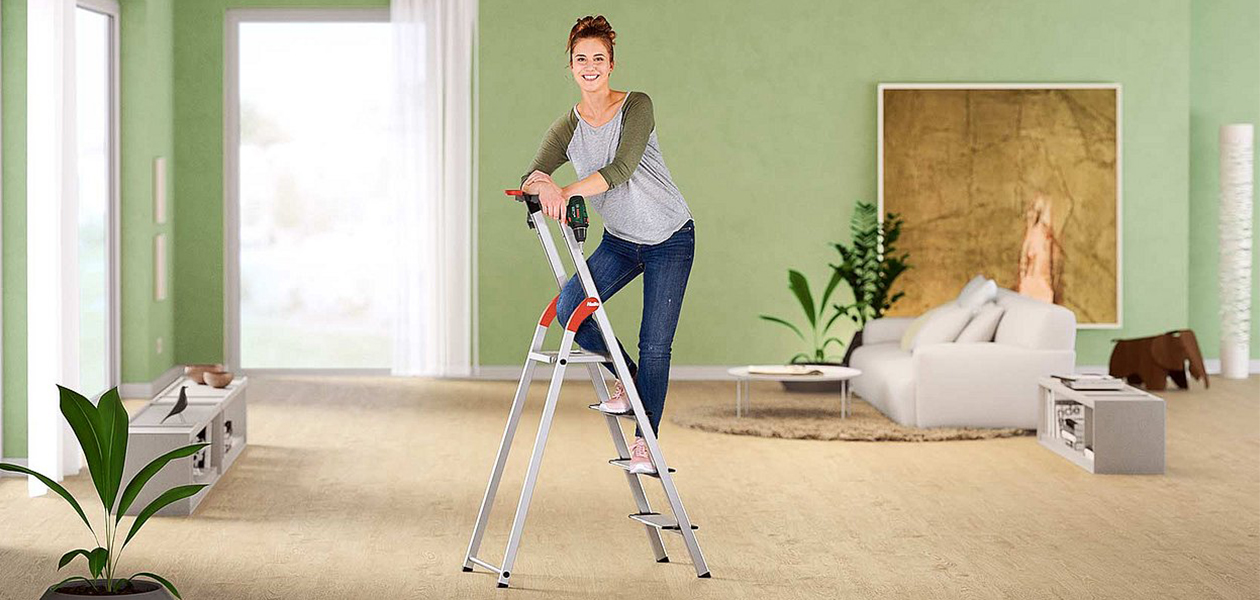 DIY Home Improvement Projects You Can Tackle with a Hailo Ladders
Embarking on a DIY home improvement project can be both rewarding and cost-effective. Your safety is vital, so whether you're looking to improve your living space, tackle a repair or get creative with a bit of home decorating, having the right tools at your disposal is essential.
At Hailo, we made it our mission to offer DIY enthusiasts the tools they need to complete their work efficiently and safely, no matter the project. To help, we stock the most versatile ladders available on the market.
In this article, we will explore a range of DIY home decorating projects you can complete with a Hailo ladder, enabling you to tackle any job and elevate your home's aesthetics.
Painting and Wall Decoration
Painting and decorating your walls at home might seem like an easy task, but it could become tricky and unsafe without the proper DIY home decorating equipment. A Hailo ladder can provide the stability you need for painting ceilings, reaching high corners, or edging near crown mouldings, regardless of height.
Our selection of ladder accessories can provide added safety when painting at heights. It can be tempting to try and multitask and carry your paint tools with you as you climb a ladder, but this is a recipe for disaster and could result in injury.
Our Hang-in Ladder Steps fit securely on your ladder to add that extra surface to place buckets of paint, roller trays, or other tools, allowing you to work safely with both hands.
Installing Light Fixtures and Ceiling Fans
Installing a light fixture or ceiling fan can be a tricky task to undertake. These projects often require working at elevated heights, so not only do you need to concentrate on the installation, but you also need to ensure you're using equipment that you can trust to provide stability.
A Hailo Combination Ladder is invaluable with home improvement and DIY installation projects because they provide added secure footing; ideal for when you need a free-standing ladder but have no stable wall or additional help to secure it.
By utilising our ladders' added stability features, you gain better control over the outcome of this DIY project by freeing up your mind during the installation process. You can precisely position and adjust fixtures or fans, ensuring the room benefits from perfect lighting and air circulation.
Renovating Your Kitchen
Your kitchen requires a lot of love and attention regarding home improvement. Unfortunately, we often bump them down the bottom of the DIY list in favour of other rooms. Revamping your kitchen cabinets can breathe new life into your culinary space, but this task also brings challenges when installing cabinets higher up on the wall.
A kitchen revamp is precisely where our Hailo Step Ladders come into play, providing the steadiness and ease of reach for precise work and installing new cabinets. Some of our step ladders even come with added slip-resistant feet to offer security when placing them on slick kitchen tiles.
A Hailo Step Ladder will grant the stability needed for accessing upper cabinets safely and allow for seamless painting or other hardware installation, helping you achieve professional-looking results in your DIY kitchen decorating project.
Outdoor maintenance and landscaping.
While you must undertake all DIY home decorating projects with care, outdoor work can be even more challenging, so it's best to use the right tools for the job.
Our selection of ladders is not limited to indoor projects and offers features that make them reliable outdoor maintenance and landscaping tools. Whether you're cleaning gutters, trimming trees, or painting the exterior of your home, a Hailo Ladder will offer the balance and steadiness needed to complete the work safely.
Creating customised storage solutions.
Making the most of your living space is vital for those who hate clutter getting in the way of their day-to-day. Therefore, optimising storage space is often a common goal for DIY Home Improvement enthusiasts.
Whether you want to install some floating shelves in your living room or overhead storage in your garage, you're going to want a secure ladder to help you with the job.
At Hailo, we have a wide range of ladders that vary in size and usage. Maybe you're installing a storage fixture in your living room, and you need a Multipurpose stepladder, or you need something to make an uneven surface more secure with a combination ladder when fixing a storage solution above a staircase; we're sure to have a ladder to support you safely.
---
Hailo has been making DIY and Home Improvement easier and safer since its creation in 1947. We understand the needs of trade professionals and enthusiasts and the challenges of different projects. That's why we're committed to providing you with a range of solutions that offer safety and stability, no matter the height you need to reach.
For any DIY job, make sure to keep Hailo in mind. Visit our website and explore our selection of ladders and accessories to make your next project as safe as possible.